Have You Visited TYD Foundation's Website Lately?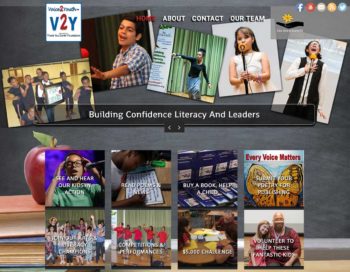 Poetry, drama, intrigue, humor, joy, hope, news it's here at TYD Foundation. Our website is open for everyone including educators and teachers, parents and students, coaches and mentors to explore.  It features a friendly, fun, trustworthy, educational and entertaining design that expands opportunities for our nonprofit organization to give voice to youth.  Personally, we're very excited about the site's improvements because it moves us closer to achieving our vision, a world where all children have access to artistic expression and support for academic success.
Additional Major Enhancements
Online poetry submission form that allows students, parents, or teachers to submit a poem for consideration for publication in our annual youth poetry anthology. Isn't that fun and exciting?  Now, it's easy as 1, 2, 3 click Submit Your Poetry.
Over the years, through our relationships with schools, libraries and community organizations, we've met some truly outstanding kids. Although, we're not able to feature them all on our website, our Student Spotlight Poets page shines a light on many talented youths.  You can get a feeling for how incredible they are by reading some of their poems that encourage the best character in us, speak out to stop bullying, or just conjure up pure enjoyment in reading.
What's really great about our new website is you. We thought about you and decided to devise a way you can LIKE and SHARE one of our kids' poems on Facebook, email it to a friend, or share it on Facebook or Twitter.
We've published 8 anthologies of children and teens original poems. The books are available on our website and on Amazon.  Buy a Book Help a Child! 
Also, we have several options now for supporters to make a secure online donation using a credit/debit card or PayPal account. Check out our Arts and Literacy Champion $5,000 Challenge Opportunities.
Most importantly, mama always said say 'thank you' and because it's in the fabric of our name, we've created a special page to recognize and thank our supporters.
We hope you'll take a look around, enjoy what you see and share it!