Arts and Literacy Champions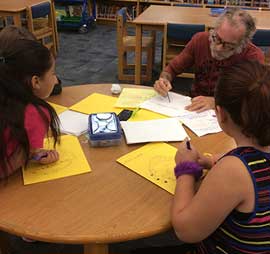 Calling all Arts and Literacy Champions!
The aim of the Thank You Darlin' Foundation's Voice2Youth poetry writing and performance program is to make arts accessible for all children while building confidence and essential literacy skills for personal and academic success.  The Thank You Darlin' Foundation's Arts and Literacy Champions are amazing individuals who vigorously support our mission by making valuable contributions that allow us to help hundreds of disadvantaged youth, yearly.  All donations we receive are used to provide in-school, after-school, and summer programs that cultivate strong reading, writing, public speaking, and performance skills using the art of poetry.
With that in mind, support provided by Arts and Literacy Champions is vitally important to our organization because we're currently in a climate where the arts, which are proven to motivate students' success, continue to be under threat.  Massive budget cuts have left many underprivileged youths without opportunities for enrichment.  However, you too can help.  Join our Arts and Literacy Champions today.  All our Arts and Literacy Champions receive special recognition via our published list honoring and showing donors' names.  In addition, you'll receive special thanks from our founder and executive director, Carolyn West.  For more about what your gift will help to accomplish, please read the information below.
Arts and Literacy Champion | GOLD – $500 or greater helps to provide:
Supplies for writers
Books for young readers
Preparation for good public speakers
Performance opportunities for young artists
Academic excellence awards for student achievers
After-school enrichment classes
Arts and literature in-school support
Arts and Literacy Champion | SILVER – $50 or greater
Supplies for writers
Books for young readers
Preparation for good public speakers
Arts and Literacy Champion | BRONZE – $25 or greater
Supplies for writers
Snacks for kids
---

---

   Click here to view the Thank You Darlin' Foundation's Arts and Literacy Champions

Click here to view the Thank You Darlin' Foundation's School and Community Partners